NORN IRON ULTRA 100
1st - 2nd June 2024
Ultra-Running at its best:
​Norn Iron Ultra 100 is a unique 108 mile Ultra run along Northern Irelands famous North Antrim coast, running from Ballintoy to the small village of Gortin in Omagh.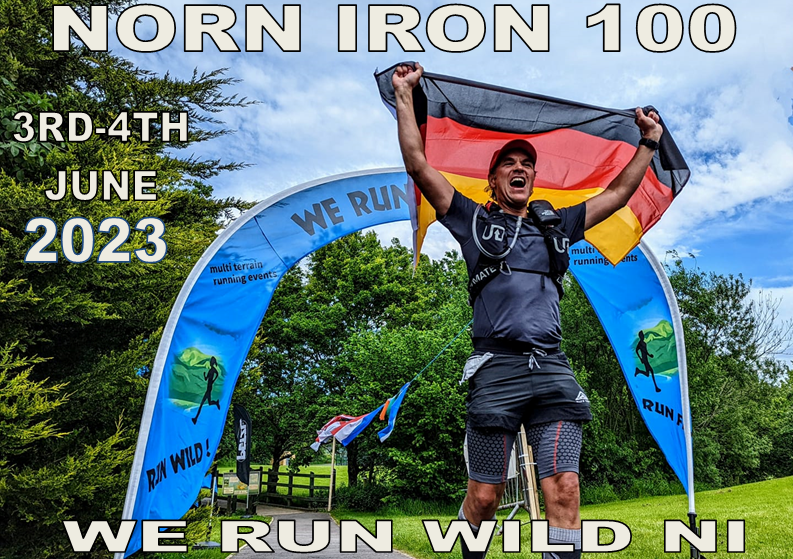 Run with us on a truly magical point to point 108 mile Ultra, starting in Ballintoy and running along the iconic Causeway Coast and the Giants Causeway. Listed as one of the Natural Wonders of the world, you will follow the waymarked Ulster Way as you travel through the seaside town of Portrush, Portstewart, Castlerock and across the Sperrin's, the Glenshane Pass and on to the finishing line in Gortin, County Tyrone
.
This spectacular route will give you unrivalled views across the North Coast. This will be a challenging run involving a mix of terrain - bogland, trail, forestry, road and beach. You will even run along the famous Giants Causeway on this epic journey.
You will run this event following the way marked Ulster Way. We will also supply a full GPX of the route. There will be no additional signage or marshals on the route, in keeping with our ethos of taking running back to nature. You do not need any special navigational skills to follow the route. You are simply required to carry your own personal GPS device, either a Watch or Handheld GPS device with the route downloaded.
We will have manned checkpoints / aid stations along the route at approximately 13, 33.5, 49.2, 68.5 and 82 miles and 2 unmanned water stations at approximately 89 and 99miles, so you will need to be confident that you can run for the distance between these stations un-aided. In other words, you will be self-sufficient and required to carry enough food, water and mandatory kit to get you to each checkpoint/aid stations. The checkpoints also serve to ensure runners have completed each section safely and are fit to continue. 2 Drop bags can be given to the RD at registration and will be transported to 33.5mile and 68.5mile checkpoints – this can be a small bag and can contain clothing/shoes/food/water. Due to the difficulty accessing food/water along the course, each checkpoint will have water to refill your water containers and plenty of snacks. The 33.5 and 68.5mile checkpoints will have Soup, Pasta, snacks, crisps, biscuits, tea/coffee, juice etc. to fuel the rest of your journey. Please note you must have enough food with you at all times to get you to each checkpoint - there will be NO food/water provided between these.
You will be fully tracked on your journey so we will know exactly where you are every minute of the race and family/friends can also track you.
On the day registration and pack collection will be at Gortin. We will arrange transport from Gortin (the Finish Line), to the Start line (Ballintoy).
Bus Times will follow at a later stage but it is anticipated that the event will start at 8.00am in Ballintoy. The bus journey will take 2 hours from Gortin and will leave no later than 5.15am to allow for trackers to be fitted at the start.
You can have crew for this event, however, given the terrain, they will not be able to access large sections of the course. Crew can provide you with clothing/food/water at any stage of the event, however, you are not allowed support/buddy runners or pacers at any time throughout the event – anyone seen to have this will be disqualified. This is intended to be a self-sufficient event as much as possible and an individual challenge.
We allow the use of walking poles.
​
You will have 34hours to complete this event.
Cut off times and distances:
50miles - 16 hours
​100miles - 34 hours
No Dogs Allowed
Is there accommodation near the Finish/bus pick up?
The Event finish is located at the Gortin Community Activity Centre. This is also the meeting place for race registration and bus pick up to take you to the start. You can book to stay at the Community Centre before and after the event as they have hostel accommodation and also some holiday homes. These must be booked by yourself and are not part of the event package. Clink on the link to take you directly to their site:
https://www.gortincentre.com/​
What is included in this event?
A unique 108mile event with the most amazing scenery in Northen Ireland.
Transport to the start location.
Fully tracked by professional GPS trackers.
Manned checkpoints - at mile 13, 49.2 and 82mile- snacks / water / Juice
Manned checkpoints - at mile 33.5 and 68.5, hot soup, pasta, snacks, Water / Juice, tea/coffee.
Unmanned water stops - at mile 89 and 99
Drop bags will be transported to 2 checkpoints – 33.5 and 68.5miles
Fully insured event.
Medical cover throughout.
Event specific wicking Long Sleeve T shirt.
Bespoke 100mile Belt Buckle.
Back to Back finishers who completed 2023 and complete 2024 will also receive a special medal
Event specific bandanna.
Shower and changing facilities at the finish.
Post race hot refreshments.
3 Reccy runs - ( We will be running these with you. )
1st run From Ballintoy to Portstewart - Saturday 17th February 23miles
2nd run From Dungiven to Goles Forest - Saturday 23rd March 21miles
3rd run From Articlave to Dungiven Night time run - Friday 26th April 32miles
The reccy runs are only for those registered for the event, they are classed as training runs and not organised races, you will be totally self sufficient, everyone will run together as a group regardless of your pace.
Entry Requirements
You must be over 18 years of age.
You must be able to support yourself running un aided for at least 26 miles.
You must have experience of Ultra events over 50 miles (if you do not have this experience please contact us to discuss)
You must agree to abide by all of the rules around the event without question.
You must agree to carry all of the required/mandatory kit as listed for the entire event without question.
You must have the ability to carry your own GPS device as this is required for navigation, this can either be a handheld GPS or a watch with GPS tracking facility. (there are no marshals or additional route signage on the course)
Mandatory kit To be carried This will be checked at registration
​
GPS tracker compulsory supplied by us and attached to your pack at registration.
Quality waterproof jacket (taped/sealed seams. Minimum 10k HH waterproofing)
Quality waterproof trousers (taped/sealed seams)
Long tights / leg cover (if wearing you must carry a spare pair)
Warm hat/bandana
Water resistant peak cap (only needed if no peak on waterproof jacket)
Emergency survival bag (suitable to provide full body cover)
Base layer long sleeve (if wearing you must carry a spare pair)
Whistle
Mobile phone (fully charged and in a waterproof case)
Power bank to charge phone/watch etc. (minimum 500 lumens)
Head torch with spare batteries and/or spare charged battery pack
Red tail light (to be switched on and worn on back of pack at all times when dark).
2x pairs of gloves.
Capacity to carry minimum 1 litre of water
Emergency Food / Nutrition and adequate food to move between checkpoints
pack to carry all of the above
Foldable reusable drinks cup (to reduce plastic usage no disposable cups will be provided at the checkpoints)
HOW TO ENTER
To enter click on either of the links below you can enter via our own website. You also have the option to either pay in full now or in 5 interest free Payments.
If you choose the payment option the first payment must be made straight away with the second payment made no later than 30th September 2023, third Payment 30th November 2023, 4th payment 31st January 2024 and the final payment made no later than the 1st March 2024
REFUNDS, DEFERRALS TRANSFERS WITHDRAWAL AND LATE ENTRIES.
Please read this section carefully and do not enter the event if you are not willing to adhere to these conditions.
Once you have entered either in part or in full, we are not able to offer any refunds or transfers of your entry to another person. We do understand that things can change. We will accept withdrawals from the race at any time up to the entry closure date of the 1st March 2024. Unfortunately, we are unable to offer refunds, so if you do need to withdraw for any reason, you will be able to a defer your entry to 2025. After the 1st March, we are unable to offer any deferrals or refunds. You can only defer your entry once. Any deferrals will be subject to payment of any inflation fee, this is payable at the point you take up your deferral. You will be sent instructions of how to take up your deferral shortly before entries open for the 2024 event. Please ensure you look out for this email and respond within the time frame. For safety reasons, we do not allow you to transfer your entry to another person at any time. The person taking part in the event must be the person entered and you may be asked to prove your identity at registration.
WHAT HAPPENS IF THE EVENT IS CANCELLED OR ABANDONED.
If
circumstances beyond our reasonable control arise,
We may need to modify the route or even cancel the event,
such as, but not limited, to a force majeure (event that is a result of nature e.g. severe flooding). Should this arise and it is deemed to negatively impact upon the safety of the event we will communicate this to you as soon as practicable via the e-mail address you have provided. A decision to cancel the event may in extreme circumstances be taken on the day or during the course of the event. The safety of competitors, spectators and race officials and volunteers is our overriding priority.
Should the event be cancelled we will do everything possible to reschedule the event to a future date. All entries will be carried forward to this new date. Should the event be cancelled due to these circumstances and due to the fixed costs associated with the event we will not be able to provide refunds on this basis.
In the event of abandonment, postponement or cancellation of the event we will have no responsibility for any associated costs of competitors including travel and accommodation costs.
ROUTE ELEVATION PROFILE
A COUPLE OF PARTICIPANT REVIEWS OF THE 2022 EVENT
​Tony Kelly
Many of the other runners have said all that needs to be said about the inaugural Norn Iron 100. An awesome event from start to finish - thank you
We Run Wild Ni
!
It's the people who make ultra running so special. Gary, Gillian, the aid station volunteers, runners and their crews were brilliant people to share the experience with.
I've tried to put my race into words (as best as possible with a semi frazzled brain!) here -
https://www.runningveggie.com/norn-iron-100/
If you're on the fence about signing up for the next one, it's time to get the splinter out of your arse and take the plunge. You won't regret it!
Johnston Kirkpatrick
Brilliant event guys an ultra of epic proportion's with awesome scenery, thank Gary & Gillian also to all the volunteers you where unbelievable,and to Paul jog moira brilliant mate thanks.
Mark Weir

Gary
and
Gillian
I have tried to write this post several times, not because I don't know what to say but because I have too much to say. The planning and execution from registration on Friday evening to the finish on Sunday was first class; transfer to start, aid stations, marshals(amazing amazing people), food, drink…..not forgetting the amazing course. You guys popping up all over the place, taking videos, giving support, right down to an ice cold can of IRN BRU from Gary on the Corrameena Road. THANK YOU. For me personally I fell in with a few individuals as early on as the first mile but by Dunseverick we had gelled into a TEAM of friends.
Louise
,
Sean
,
George
, Sean McKeown and Deborah as well as the amazing Lynn, George's good lady I can't thank you enough and I can't wait to toe the line with you someday soon. THANK YOU. Very emotional at the finish, cried my eyes out behind my shades not only to cross the line but seeing
Seán Nickell
there someone who gives me every encouragement (on this crazy ultra stuff) and doesn't doubt me when i doubt myself. THANK YOU. Never again……….until……….
CHECK OUT THIS SHORT VIDEO WITH SOME HIGHLIGHTS FROM OUR 2022 EVENT