---
A UNIQUE AND EXCITING RUNNING EVENT
ON THE RUN FROM THE CRUM !

​17th - 18th September 2022

---
We have exciting new options / categories for 2022
You now have the option to run for

24 Hours:
Solo
Chain Gang pair
Chain Gang Trio

12 Hours:
Solo
Chain Gang Pair
Chain Gang Trio

6 Hours:
Solo
Chain Gang pair
Chain Gang Trio

There will be prizes in all categories for Solo runner / Pair / Trio, for who ever runs the furthest distance: AS THE CROW FLIES

Dont miss out on this unique experience !



CHECK OUT THE FANTASTIC MEDAL ON OFFER FOR ALL PARTICIPANTS
---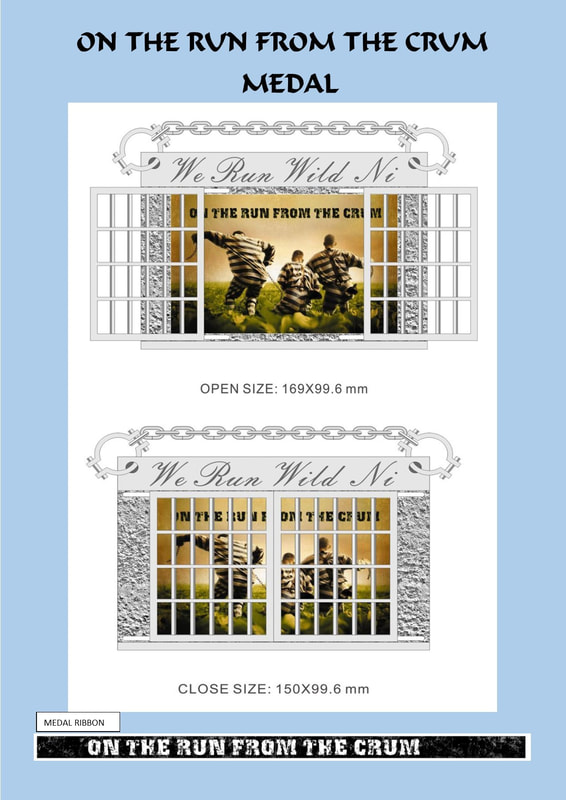 ​ ​'ON THE RUN FROM THE CRUM'

FAQ'S:

When Is The event? 17th - 18th September 2022 AT 9:00AM

Where Does The Race Start? 'C WING', CRUMLIN ROAD GAOL, 53-55 CRUMLIN ROAD, BELFAST, BT14 6ST. YES THE RACE ACTUALLY STARTS WITHIN THE HISTORIC GAOL. REGISTRATION TAKES PLACE IN THE HOLDING AREA AND RUNNERS WILL THEN RUN THROUGH 'C WING' AND OUT OF THE BUILDING. AS YOU RUN OUT OF 'C WING' YOU WILL RUN PAST THE CELL SAID TO BE THE MOST HAUNTED IN THE GAOL (PHOTO OPPORTUNITY!)

MARSHALS WILL DIRECT RUNNERS FROM THE MAIN CRUMLIN ROAD ENTRANCE AND FROM THE CARPARK TO THE START AREA.

Is Car Parking Available? CARS CAN ONLY BE LEFT AT THE GAOL CARPARK UNTIL 4:30PM ON SATURDAY 5TH OCTOBER. ALL CARS MUST BE MOVED BY THEN SO IF YOU DRIVE TO THE START AND INTEND TO LEAVE YOUR CAR, YOU

MUST

MAKE ARRANGMENTS FOR SOMEONE TO COLLECT THIS.

What Do I Provide At Registration? ID AND MADATORY KIT TO BE PROVIDED FOR CHECK

Can I really escape to anywhere? YES - YOU ARE FREE TO TRAVEL ANYWHERE YOU LIKE BUT ONLY ON FOOT. IF YOU ARE USING PRIVATE LAND PLEASE ENSURE YOU HAVE PERMISSION.

REMEMBER YOU WILL CARRY A TRACKER WHICH MUST REMAIN TURNED ON AT ALL TIMES AND WE WILL BE MONITORING THIS.

ANYONE WHO USES ANY KIND OF TRANSPORT WILL BE DISQUALIFIED.

Are Roads Closed During The Run? ROADS REMAIN OPEN DURING THE EVENT. THE HIGHWAY CODE SHOULD BE FOLLOWED AT ALL TIMES TO ENSURE RUNNERS' SAFETY

– FOOTPATHS SHOULD BE USED, TRAFFIC LIGHTS OBEYED ETC.

What Does It Mean As The Crow Flies? THIS MEANS THAT YOU PLOT YOUR OWN ROUTE

IN A STRAIGHT LINE

ON A MAP; RUNNING THE SHORTEST DISTANCE BETWEEN TWO POINTS. ONCE REGISTERED WE WILL PROVIDE YOU WITH A LINK TO A MAP TOOL WHICH WILL HELP YOU TO PLOT YOUR ROUTE AND MEASURE YOUR DISTANCE

AS THE CROW FLIES.

YOU WILL THEN SUBMIT YOUR ROUTE TO US TWO WEEKS PRIOR TO THE EVENT.

Will There Be Route Directions? NO -THE ROUTE WILL NOT BE MARKED AS YOU PLOT YOUR OWN ROUTE.

Will There Be Aid Stations? NO -THIS IS A 100% SELF SUFFICIENT RACE THERE WILL BE NO MARSHALS AND NO AID STATIONS.

How Will I Access Food And Drinks During The Run? YOU NEED TO PLAN AHEAD – YOU SHOULD PLAN TO CARRY ADEQUATE FOOD AND FLUID AS REQUIRED AND PLAN A ROUTE WHICH ENCORPORATES ACCESS TO SHOPS. YOU MUST COMMENCE THE RACE CARRYING 1 LITRE OF FLUIDS (MANDATORY KIT).

YOU CAN ALSO HAVE A CREW WHO CAN SUPPLY YOU WITH FOOD AND FLUIDS.

Is There A Qualifying Criteria For The Event? NO – ALL WE ASK IS THAT YOU ARE SENSIBLE AND BEAR YOUR OWN LIMITS IN MIND, REFLECTIVE OF YOUR PREVIOUS RUNNING EXPERIENCE AND TRAINING.

Is There A Mandatory Kit List.? YES - YOU MUST HAVE THE FOLLOWING ITEMS AT ALL TIMES:

TRACKER SUPPLIED BY US WHICH MUST BE WORN AND SWITCHED ON AT ALL TIMES. ALL TRACKERS WILL REMAIN LIVE UNTIL THE EVENT ENDS (ON SUNDAY 9:30AM)
ABILITY TO CARRY 1LTR FLUIDS MINIMUM
MOBILE PHONE FULLY CHARGED (AND WITH CREDIT IF APPROPRIATE). WITH TELEPHONE NUMBER OF RACE DIRECTORS
HIGH VIS VEST MUST BE WORN ONCE NIGHT FALLS HEAD TORCH MUST BE WORN ONCE NIGHT FALLS
HAT (BUFF IS ACCEPTABLE)/GLOVES
WATER PROOF JACKET & TROUSERS WITH TAPED SEAMS FOIL SPACE BLANKET

MANDITORY KIT WILL BE CHECKED AT REGISTRATION AND ALL RUNNERS MUST HAVE EACH ITEM. SHOULD YOU NOT HAVE THESE ITEMS AT KIT CHECK YOU CANNOT RUN.

WE COULD LIST RECOMMENDED KIT WHICH WOULD GO ON FOREVER BUT WE ASSUME THAT BY TAKING PART IN THIS EVENT, YOU ARE EXPERIENCED RUNNERS AND WILL USE YOUR COMMONSENSE IN ENSURING YOU ARE FULLY PREPARED FOR THE WEATHER CONDITIONS AT THE TIME OF YEAR. IF YOU HAVE A CREW THEY MAY CARRY ADDITIONAL ITEMS FOR YOU.

REMEMBER IT IS YOUR RESPONSIBILITY TO LOOK AFTER YOURSELF. WE WANT EVERYONE TO ENJOY THE EVENT AND STAY SAFE.

Can I Run With A Friend? THERE ARE THREE ENTRY CATEGORIES:

SOLO - ONLY THE REGISTERED PARTICIPANT CAN RUN. WE PROMOTE THIS EVENT AS RUNNERS BEING SELF-SUFFICIENT AND EXPECT YOU TO INCORPORATE THIS INTO YOUR TRAINING AND PLANNING. RUNNERS NOT REGISTERED ARE NOT ALLOWED TO RUN WITH YOU. 24HR AND 12HR WILL BE TRACKED, 6HR WILL FOLLOW A DIFFERENT FORMAT

CHAIN GANG -PAIRS – TWO RUNNERS START, RUN AND FINISH TOGETHER. A TRACKER IS SHARED. 24HR AND 12HR ONLY, 6HR WILL FOLLOW A DIFFERENT FORMAT

CHAIN GANG -TRIO – THREE RUNNERS START, RUN AND FINISH TOGETHER. A TRACKER IS SHARED. 2HR AND 12HR ONLY, 6HR WILL FOLLOW A DIFFERENT FORMAT

Can I Have A Crew? YES - WE HAVE NO OBJECTION TO YOU HAVING A CREW. THEY CAN PROVIDE YOU WITH FOOD, FLUIDS, CHANGE OF CLOTHES ETC BUT MUST NOT ASSIST IN TRANSPORTING YOU.

MEMBERS OF YOUR CREW ARE NOT PERMITED TO RUN WITH YOU AT ANY TIME. SHOULD THEY RUN WITH YOU, YOU MAY BE DISQUALIFIED?

Can I use Gps Or Gpx? YES - YOU ARE FREE TO USE GPS OR GPX WE HAVE NO RESTRICTIONS ON THESE.

Can I Retire Early? YES - IF YOU WISH TO RETIRE EARLY THAT IS FINE BUT WE WOULD ASK THAT YOU TURN OFF YOUR TRACKER AND INFORM THE RACE DIRECTOR BY PHONE. YOUR DISTANCE AND TIME WILL THEN BE RECORDED.

Do I Have To Run For 24Hours ? NO WE REALISE THAT NOT EVERYONE WILL WANT TO RUN FOR 24 HOURS AND THAT'S FINE. THE TIME SPENT RUNNING IS ENTIRELY UP TO YOU. SET YOURSELF A NEW CHALLENGE AND GO FOR IT! EACH EVENT IS THE SAME

ALL RUNNERS WILL RECEIVE A MEDAL REGARDLESS OF THE DISTANCE RUN.

What Happens If I Get Into Trouble? EACH TRACKER HAS AN SOS BUTTON. IF YOU RUN INTO SERIOUS TROUBLE PLEASE ACTIVATE THIS AND RING 999 IN THE CASE OF A MEDICAL EMERGENCY. IF IT IS ACTIVATED, WE WILL ENDEAVOUR TO MAKE CONTACT WITH YOU VIA YOUR MOBILE CONTACT NUMBER PROVIDED TO FIND OUT HOW WE CAN HELP.

IF NECESSARY, WE CAN CONTACT YOUR EMERGENCY CONTACT.

Is Medical Aid Cover Included? IN THE CASE OF AN EMERGENCY PLEASE ACTIVATE THE SOS BUTTON ON YOUR TRACKER AND PHONE 999. WE WILL MONITOR ALL TRACKERS AND SHOULD YOU STOP MOVING FOR ONE HOUR WE WILL CONTACT YOU TO ENSURE YOU ARE WELL AND FIT TO CONTINUE.

What Happens When I Have Run For 24 Hours? ONCE THE 24HOURS HAS BEEN REACHED THE EVENT WILL BE OVER AND YOU WILL HAVE BEEN DEEMED CAUGHT. YOUR DISTANCE AND POSITION WILL BE LOGGED VIA YOUR TRACKER. PLEASE ENSURE YOU ACCOUNT FOR THIS WHEN PLANNING YOUR ESCAPE/ROUTE IE: IF YOU DO NOT HAVE A CREW PLEASE ENSURE YOU CAN ACCESS TRANSPORT HOME. EACH EVENT FOLLOWS THE SAME RULES

Will There Be Transport PROVIDED To Take Me Home? NO - YOU SHOULD PLAN TO HAVE ACCESS TO TRANSPORT WHEN YOU FINISH. SHOULD YOU HAVE CREW, THEY CAN TRANSPORT YOU HOME

ONLY ONCE YOU HAVE RETIRED OR REACHED 24 HOURS.

OTHERWISE PLEASE USE PUBLIC TRANSPORT OR HAVE ARRNAGEMENTS IN PLACE FOR SOMEONE TO COLLECT YOU.

What Do I Do With My Tracker After The Event? YOU MUST RETURN THE TRACKER TO US

USING SIGNED FOR DELIVERY.

THIS MUST BE RETURNED THE DAY AFTER THE EVENT,

YOU ARE RESPONSIBLE FOR THE COST OF POSTAGE. ANY TRACKER NOT RETURNED WILL BE INVOICED TO YOU AT A COST OF £120.00. BY ENTERING THIS EVENT YOU AGREE TO THESE CONDITIONS.

How Do I Get My Medal or Prize? AS EACH RUNNER PLOTS THEIR OWN ROUTE AND AS SUCH THERE IS NO 'FINISH LINE', MEDALS AND PRIZES WILL BE POSTED TO ALL COMPETITORS IN THE FEW DAYS AFTER THE EVENT.

What Is The Cost For The Event? THE COST FOR THE EVENT IS:

£70.00 FOR SOLO ENTRANT 24HR

£126.00 PER PAIRED CHAIN GANG 24HR

£180.00 PER TRIO CHAIN GANG 24HR

NEW CATEGORIES FOR 2022

£70.00 FOR SOLO ENTRANT 12HR

£126.00 PER PAIRED CHAIN GANG 12HR

£180.00 PER TRIO CHAIN GANG 12HR

£50.00 FOR SOLO ENTRANT 6HR

£100.00 PER PAIRED CHAIN GANG 6HR

£150.00 PER TRIO CHAIN GANG 6HR

What is Included In My Entry Fee? THE OPPORTUNITY TO PARTICPATE IN A UNIQUE EVENT, ACTUALLY STARTING INSIDE 'C WING' OF THE HISTORIC CRUMLIN ROAD GAOL

PRE-RACE REFRESHMENTS, RACE BIB.

TRACKER for the 24hr and 12hr event only the 6hr event will have a different format.

A UNIQUE, QUALITY MEDAL

AN 'ON THE RUN FORM THE CRUM' T SHIRT

ELIGIBILITY FOR A PRIZE

WE WILL MONITOR TRACKERS THROUGHOUT THE EVENT AND YOUR WELFARE IS PRIORITISED AT ALL TIMES SO YOU CAN RUN SAFE IN THE KNOWLEDGE THAT WE ARE LOOKING OUT FOR YOU. FOR UNSUPPORTED RUNNERS, SHOULD YOU STOP FOR MORE THAN ONE HOUR WE WILL CONTACT YOU TO ENSURE YOU ARE WELL AND FIT TO CONTINUE. SHOULD YOU NEED US TO, WE CAN CONTACT YOUR EMERGENCY CONTACT.

Are There Prizes Awarded? PRIZES WILL BE AWARDED FOR; FURTHEST SOLO MALE FURTHEST SOLO FEMALE FURTHEST PAIR CHAIN GANG FURTHEST TRIO CHAIN GANG IN EACH EVENT.

​

What if I am not able to run Run? Can I Get A Refund Or Defer My Place? NO - WE HAVE A STRICT NO REFUND, NO DEFFERAL POLICY. WE ARE HAPPY TO ALLOW YOU TO TRANSFER YOUR PLACE TO ANOTHER COMPETITOR, UP TO A MAXIMUM OF 4 WEEKS BEFORE THE EVENT. THE RACE ORGANISER MUST BE INFOMRED OF THIS AS ALL DETAILS MUST BE CHANGED OVER AND ID MUST BE PRESENTED AT REGISTRATION. IF ENTRY IS IN A DIFFERENT NAME, THE RUNNER WILL NOT BE PERMITTED TO RUN.